Table of Contents
Confetti704 Non Inverting Summer
The non inverting summer board for the Analog Computer Confetti. A good description of the basic functionality of the summer one can find here: The Summing Amplifier.
The board has a jumper marked as V3 for using the sum of two (no jumper) or three inputs (set jumper) different inputs..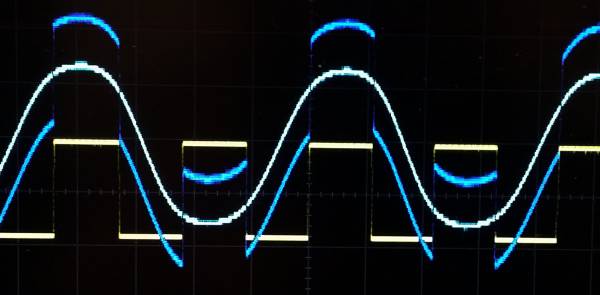 The screenshot of an oscilloscope: summing to different inputs together, a square wave plus a sine wave.

---
Paper PCB
Parts
Resistors:

1x 33.33 kOhm

4x 100 kOhm

Semiconductors

1x TL074 OpAmp

Mechanical:

1x IC socket, 14pins

1x 2 pin strip

1x jumpers

4x 2 pin header, female

2x pin header, female 90° 1×3, 1×2

2x pin header, male 90° 1×3, 1×2
---
License
The Confetti704 Non Inverting Summer was designed by Wolfgang Spahn 2015-19.
It is licensed under a Creative Commons Attribution-NonCommercial-ShareAlike 4.0 International License.
---