Table of Contents
Confetti101 Gyrator
That's a gyrator board for the analog computer Confetti.
With the jumper set one can connect the output to the common ground, if no jumper is used one can use the output connector instead.
Together with the Confetti102 Chua Diode one can build a Chua's Oscillator.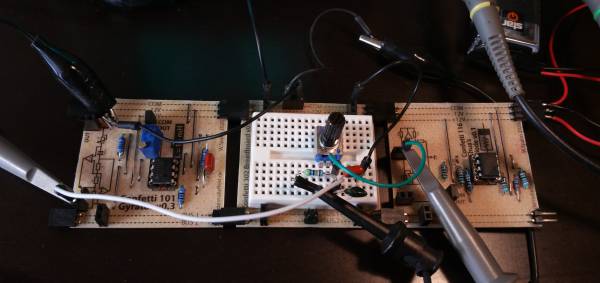 Analog Computing 01 - Chua's Circuit

---
Paper PCB
Parts
To build this board one needs a copper stripe protoboard (1/6 of the 16x10cm board), a paper print out (1:1) and some copper wire for the bridges.
Resistors:

1x 100 Ohm

2x 1 kOhm

Capacitors:

1x 100nF

Semiconductors

1x TL072 OpAmp

Mechanical:

1x IC socket, 8pins

1x 2 pin strip

1x 1 pin

3x 2 pin header, female

2x pin header, female 90° 1×3, 1×2

2x pin header, male 90° 1×3, 1×2

1x jumpers

Trimpotentiometer:

1x 5 kOhm
---
License
The Confetti101 Gyrator was designed by Wolfgang Spahn 2015-20.
It is licensed under a Creative Commons Attribution-NonCommercial-ShareAlike 4.0 International License.
---